Flexiwet Leggings F07
F07 – Monsoon Flexiwet Leggings.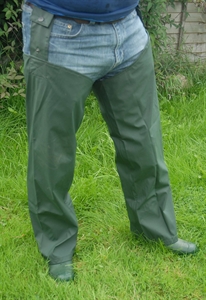 Description
Monsoon Flexiwet Leggings are PU Coated 180grm knitted Fabric. Wind and Waterproof with a High Tear Resistance makes it extremely Hard Wearing. Flexiwet is lightweight and as the name suggests Flexible… Comfortable.
Garment Details:
Waterproof and Windproof
High Tear Resistance – Hard Wearing
Adjustable Side Straps for Dual Length Fit
Traditional Belt-attach Style – Belt not supplied
Colours Available:
Sizes Available:
One Size Only – Pair Supplied
Care Instructions: When Flexiwet garment becomes soiled, hose or swill down with water and store. Never Roll up when wet.  Flexiwet is ultra-violet sensitive. Never store in direct sunlight as this will result in deterioration of the fabric. Do Not Machine Wash. Do Not Dry Clean  Do not iron. Do not bleach. Do not Spin. Do Not Wring. Do not Tumble Dry.
£24.00
---